Photo courtesy of BiblePlaces.com
Meaning: possession of the wine-press
Tel-Goded has been identified with Moresheth Gath, believed to be the Prophet Mica's hometown.
The word of the LORD that came to Micah the Morasthite in the days of Jotham, Ahaz, and Hezekiah, kings of Judah, which he saw concerning Samaria and Jerusalem. (Micah 1:1)
Therefore shalt thou give presents to Moreshethgath: the houses of Achzib shall be a lie to the kings of Israel. (Micah 1:14)
Micah, also called "Micah the Morasthite" in Jeremiah 26:18.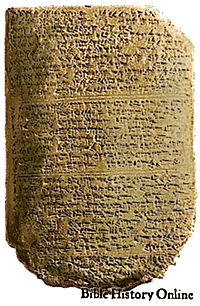 Moresheth Gath is also mentioned in the Amarna letters (400 cuneiform tablets found at Tel el Amarna in Egypt dating around 1400 BC). This diplomatic correspondence between Kings of Canaan Cities and the King of Egypt bear witness to some of the information in the book of Judges.
Tablet Photo courtesy of www.biblehistory.com
see: http://www.bible-history.com for more information on the Amarna Letters.